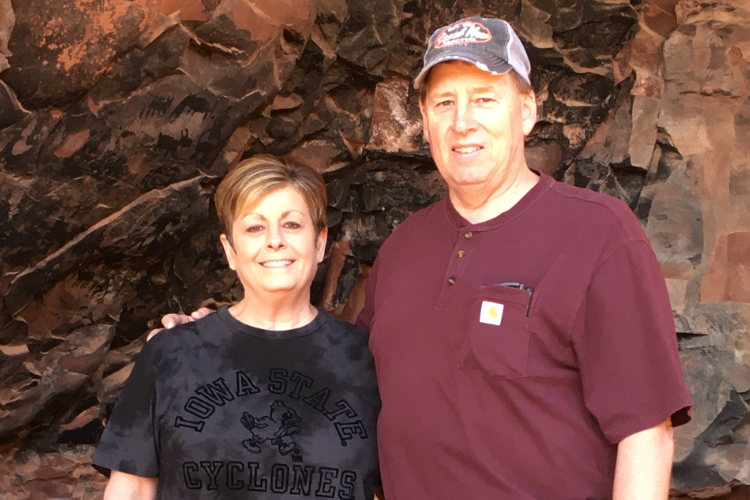 "Several years ago, my brother Gary was ill and doctors weren't sure why. Because of his illness, he moved in with my husband Jason and me. One day before leaving the house, I checked on Gary. He was laying in the fetal position at the foot of his bed but assured me he was all right.
That was the last time I saw my brother. Shortly after I left, Gary drove to our aunt and uncle's home and committed suicide. It was devastating, and it was yet another tragic event in a long line of struggles for me. Both my mom and dad had terminal illnesses for years. My dad, who also struggled with alcohol and all the pain and everything that went with that, died at the age of 48, and my mom passed away at the age of 60.
I have a wonderful husband, but after my brother died, I felt alone. At this point in my life, I knew Jesus but was stuck and stagnant in my walk with Him. I had definitely not opened up every part of my heart to Him.
Jason and I decided it was time to re-ignite our faith and began attending Prairie Lakes Church. We met followers of Jesus who were real, open, and vulnerable. It was exactly what we needed as we walked through massive pain, guilt, and grief.
In my time at PLC, I've learned God is good, and He does impactful work even in our most difficult seasons. My journey has led me to this point, and now I strive to be a blessing to others going through life struggles. I want to remind people they are not alone and God will meet them in their pain.
These days, my story reads much differently. God has done an incredible work in my life. God allowed me to see Gary give his life to Jesus before his suicide. I witnessed my mom (while on a ventilator for five months) accept Jesus. I've seen our two daughters, son-in-law, and all three of our grandkids give their lives to Jesus. Our eleven-year-old granddaughter has even been baptized! God is so good!"
Cindy, Fort Dodge Campus (pictured with her husband, Jason)